Sunday, October 31, 2004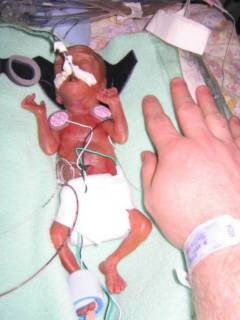 This is Will on Friday, Oct. 29. He weighs about 1 pound and is 10 1/2 inches long. That's John's hand next to him. He has many sensors on him that keep track of his oxygen levels, blood pressure, heart rate and respiration. The tube in his mouth is hooked to a ventilator that helps him breathe. A pair of foam goggles is behind his head. He wears the goggles when he is under a bright light they put on him to help prevent jaundice.
Mary came home from the hospital on Saturday, and is doing well.
Tuesday, October 26, 2004